Nicholas Snelling LLB worked as a litigation executive before founding and running a UK construction company specialising in high profile central London renovations and structural remedial works. He then wrote a highly regarded book 'Home Ownership' on property in the UK.
In Spain, Nick has worked as a management consultant to two estate agencies in Spain and is an experienced journalist who has appeared on a number of radio programmes including BBC Radio 4.  He has also worked as a TV presenter in Spain and has been on ITV's 'Homes from Hell' and 'A Place in the Sun' and is has been a columnist for the 'A Place in the Sun' magazine and written their Spain country guide.
Nick writes investigative articles about Spain, has written five books and is a specialist on life in Spain, moving to Spain and Spanish property. He also runs a highly regarded authority Blog at Culture Spain which provides constantly updated information about Spain – including breaking news… and he has an estate agency specialising in property around the gorgeous Gandia area of Spain.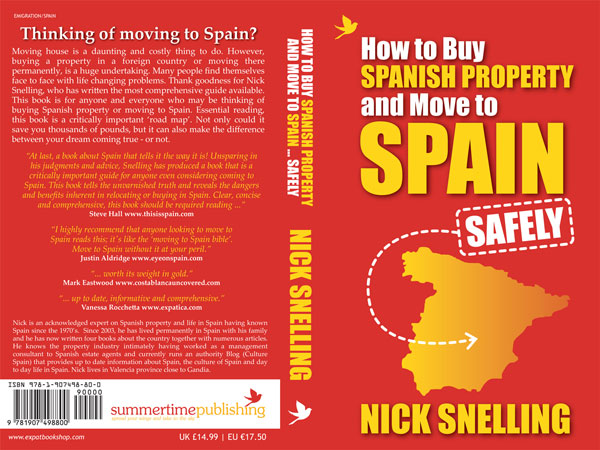 84,500 words – 345 pages!
26 sections!
plus over 160 vital Spanish Terms and Definitions
plus Useful Contacts
9 highly qualified, professional contributors (Spanish and British)
Written by a Spanish industry 'insider' and professional author
Buy Now! Kindle version from Amazon – only 7.99
Buy Now! E-Book Version – only £7.99