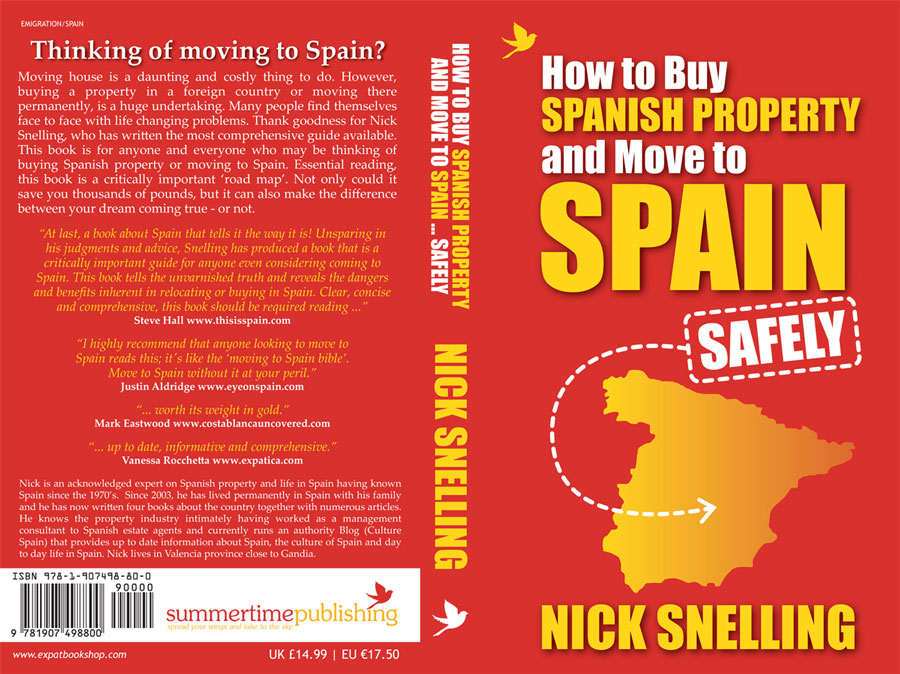 80,000 words – 325 pages!
26 sections!
plus over 160 vital Spanish Terms and Definitions
plus Useful Contacts
9 highly qualified, professional contributors (Spanish and British)
Written by a Spanish industry 'insider' and professional author
Everything you need to know about how to buy Spanish property and move to Spain!
"…really informative and up to date…" Liz Rowlinson, A Place in the Sun
"…required reading…"     Martin Dell, Kyero.com
"…it's like the "moving to Spain Bible…"     Justin Aldridge, EyeonSpain.com
"…invaluable…"     Jack Troughton, Round Town News
"…excellent…"     Roy Wickman, Costa Blanca News
"…up to date, in-depth and comprehensive…"     Vanessa Roccetta, Expatica.com
"…everything you need to know…"     Hannah Murray, Talk Radio Europe
"…packed to the seams with essential information."  Keidi Keating, The Sentinella
"…a critically important guide…"     Steve Hall, ThisisSpain.com
"logical, useful and just the right amount of information…"  Alfredo Bloy, Euro Weekly News
"Penetrating and uncompromising…consistently clear, practical advice…"     Mark Eastwood, costablancauncovered.com

Buy 'How to Buy Spanish Property and Move to Spain – Safely!' now!